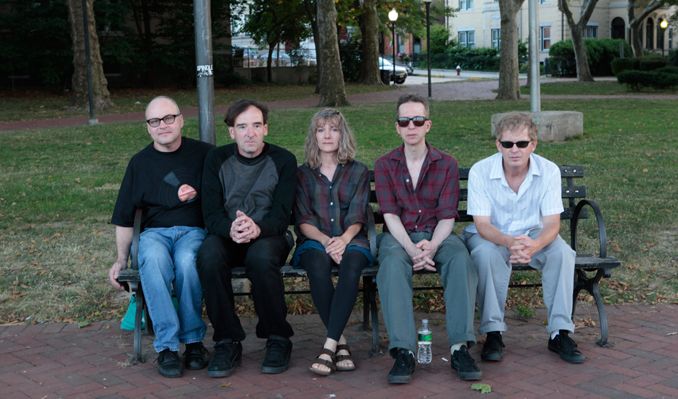 share
Event Information
Please note: this show is 18+ with valid ID. Patrons under 18 admitted if accompanied by a parent. Opening acts and set times are subject to change without notice. All sales are final unless a show is postponed or canceled. All bags larger than 12 inches x 12 inches, backpacks, professional cameras, video equipment, large bags, luggage and like articles are strictly prohibited from the venue. Please make sure necessary arrangements are made ahead of time. All patrons subject to search upon venue entry.
Read More
Artist Information
(Photo credit – Rob Bennett for The New York Times; Photo illustration by The New York Times)
Formed in Haledon NJ in 1976, The Feelies released 4 albums- including their critically acclaimed and influential debut Crazy Rhythms, which was voted 49 in the top 100 albums of the 1980s by Rolling Stone magazine and chosen by Spin Magazine as 49 of the best alternative records of all time. Supporting the release of their first four albums the band appeared on the The Late Show With David Letterman and in concerts with The Patti Smith Group, REM, and Bob Dylan as well as touring with Lou Reed. The twin-guitar attack of songwriters and founders Glenn Mercer and Bill Million is the infectious sound of the group. Paired with driving drums and percussion, it has left an indelible mark on the landscape of rock and roll.
In 2008, the Feelies re-united to open for long time admirers Sonic Youth at Battery Park and then resurrected their tradition of playing low key gigs at strategic intervals throughout the year rather than doing lengthy tours. In 2009 Bar/None re-issued Crazy Rhythms and The Good Earth, this being the first band-sanctioned CD release of the former. In 2011, they released a new studio album Here Before.
In March 2016, Bar/None Records re-released the third and fourth albums, Only Life and Time for a Witness. As a special Record Store Day release Bar None/Coyote Records will co-release the Feelies Uncovered. This will be a limited edition 12 " EP featuring studio recordings of four cover songs, none commercially available before. In addition, the Feelies recently wrapped up work on a brand new studio album, expected to be released later this year.
They continue to regularly perform live. Their music has been featured in the films Married to the Mob, Something Wild, Prelude to a Kiss, The Truth About Charlie, The Squid & the Whale and Ricki and the Flash.
Read More
*Service and handling fees are added to the price of each ticket.
Fri, September 20, 2019
8:00 PM 7:00 PM
$20.00 - $23.00 $23.00
18 & Over